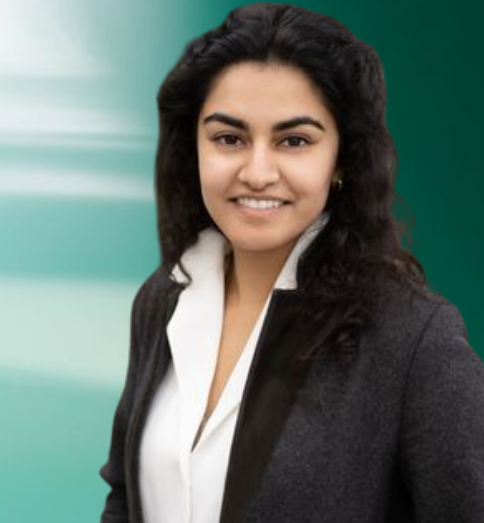 Myra Ahmad, Co-Founder of Mochi Health Talks About Building A Telehealth Company for Binge Eating Disorder & Obesity Treatment
Myra Ahmad spent four years in medical school, where she did much research into vascular surgery, and this is where she realized that the medical industry had a lot of bias towards people and their weight.
According to Myra, despite this explosion in the field of obesity medicine, and alongside all sorts of FDA-approved treatments and prescription medications, we weren't really seeing a turnover in patients being really treated using these medications to actually lose weight.
Take more risks. I don't think, when I was younger, I was willing to take as much risk and I probably might've left medicine earlier to start a company if I had been willing to take a risk.
In this episode, Myra delves into the challenges faced by patients as they try to access obesity medication, and how she decided to solve this problem through Mochi Health, a telehealth company that's easily accessible from anywhere in the US.
Listen to the full podcast to learn all about Myra Ahmad and her building journey with Mochi Health.
Myra's Book Recommendations:
Empire of Pain by Patrick Radden Keefe
Hillbilly Elegy by J. D. Vance
Never Split the Difference: Negotiating as Your Life Depended on it by Chris Voss
Where to Find Myra:
Follow her on Twitter: @itsheatherhop
Find her on LinkedIn: Heather Hopkins
Follow her on Instagram: itsheatherhopkins
Find her on TikTok: itsheatherhopkins
Where to Find Myra:
Twitter: myrahahmad
LinkedIn: Myrah A.
Website: www.joinmochi.com
Episode Transcript:
Intro
Desiree
in today's episode, we have Myra the woman behind multi health. Myra, welcome to the show.
Thank you.
Desiree
So first question I'll throw at you is briefly introduce yourself and what are you building?
Myra
Sure. Um, my name's Myra Ahmad, we're building mochi health. It's a tele-health company for binge eating disorder and obesity treatment. Um, so how it works is patients can go into the website and fill out the eligibility form, and then they get a response back based on the responses and, um, they can mix and match different treatment options.
They can meet with board-certified obesity medicine providers for prescription medication, nutrition visits, fitness coaching, um, sleep therapy and a whole bunch of other options.
Al
Cool. Um, let's talk to us about the backstory where did you get the idea? How did it all start?
Myra
yeah. Yeah. So I was in medical school for four years before this and, um, I spent a lot of time researching and vascular surgery and one of the things that really struck me was that a lot of medicine has a lot of bias towards people and their weight. And, um, despite this explosion in the field of obesity medicine, and all of these new FDA approved treatments that we have and prescription medications, um, we, we weren't really seeing that turnover to patients being prescribed these medications as a helpful tool for weight loss.
Um, a lot of the places that we did see that offered these treatments were focused in big academic centers. And so we wanted to build a platform that would basically allow access for anyone in the country.
Al
Cool. Um, so you have a co-founder as well I just read it on your, about us page. Uh, tell a bit about her as well. Well, I think she has a history with this.
Um, could you tell us a bit about that as well?
Myra
Yeah. Um, I co-founder, my co-founder was initially my very good friend when we were starting this project. And that's now, um, she's the CTO on this and she, um, has a personal background with this. So she's personally struggled with this problem and she knows the difficulties even in Seattle, a city of 2.1 million people, there were only three clinics that offered these prescription based treatments with obesity, medicine providers. And, um, it takes months and months to get in with them. It takes months and months to get treatment options. Um, and they do offer some of these other wraparound services of sleep therapy and nutrition and coaching, but just the challenges of, um, access is a huge problem.
Al
Cool. Um, and in terms of funding, I think you just raised pre-seed of seed. Could you tell us a bit about how you did that?
Myra
Preseed
Al
Pre-seed aha, who's backing you?
Myra
Oh, sorry, you cut out there. What'd you say?
Al
Who's backing you, like the VCs and funding, Can you tell us a bit?
Myra
Yeah. Um, we have a number of people who were backing us, so Dexterity Capital, and then, um, a number of our, of our, uh, founder, friends and their network VCs and angels, were a lot of the people who funded us.
Al
Are you at any positives now? Are you generating revenue? People are in your company signed up?
Myra
Yeah, we are generating revenue and we have, um, eligibility form and sign up. So, um, we've been recruiting patients from all 50 states.
Al
Cool. Um, how'd you get your first users? How'd you get to them either through social media or do you have any other approach?
Myra
Yeah, yeah, we had, um, so because access is so challenging, in the US there's a number of people who will try to order medications from Mexico or Canada or online sketchy pharmacies. And so a lot of our early users came from basically diverting them from these mystery illegal sources to say, Hey, like for the same price, you can meet with an obesity medicine provider and get prescription medication from my US-based pharmacy.
Al
And in terms of marketing, what is that you're doing? How are you going to your potential customers?
Myra
Yeah, we approach customers a number of different ways. Part of it is TikToc part of it is, um, social media, Instagram, um, Facebook. Um, all of the other socials,
Al
Aha um right. Uh, how big is your team now? How many people are in the team right now?
Myra
Yeah, we have eight people. Um, many of those are providers or nutritionists and, um, doing the services with patients, but, um, in San Francisco it's me and my co-founder and the rest of the team is remote.
Al
Right. And, but who would you consider yourself, uh, considered as, uh, competitors in your space? Are there anybody else doing the same thing or how, how do you differentiate yourself as well with them?
Myra
Yeah. Um, there's a lot of other companies that do weight loss, um, as I'm sure, you know, there's, there's tons and tons of other weight loss products. I consider it kind of evidence-based treatments and non evidence-based and not evidence-based treatments there's like an infinite number of teas and supplements and stuff.
Um, we don't really consider those to be as much of a competitor because we're offering more of a medicine based approach, um, in the medicine based camp. There's, um, a number of huge programs, Calibrate is one that does GLP one medication only, um, Found is another one that does a number of different medications, our big differences that we allow you to customize options.
So, um, you can choose whether or not you want to do nutrition. You can also add on sleep therapy. You could add on fitness coaching. Um, there's other services that we, let you customize basically we don't want it to be a one size fits all approach. Really
Al
Great. Um, let's say I want to join your program or I want to lose, let's say 20 pounds, right. I'm just throwing a number out. And how would that work? Why is the process. Could you walk me through it as a user?
Myra
Yeah, absolutely. So for people who are trying to lose weight, the, if you were, if you were looking for prescription medication, there are BMI criteria cutoffs for eligibility, but let's assume that you were above those cutoffs.
Um, you could go to the website and complete the eligibility form. And then on the back end, we have a number of algorithms that basically, uh, based on your responses will suggest different treatment options to you. And then you can go through and book your visit and you'll have your a tele-health entire video visit with their providers or with nutritionist or whoever you choose.
Al
So it's going to be totally remote. I don't have to physically be in person anywhere at all. Well, is it a hundred percent remote?
Myra
Yep. A hundred percent remote.
Al
Excellent. Um, right, um, maybe, um, uh, this is like a common question I ask pretty much all the female founders. Did you find any obstacles at all being a female founder?
Maybe when you were raising finance or anywhere so far?
Myra
Yeah, I suspect that fundraising was different for me than what it would've been like if I was not female. Um, in that, like, I think some of the questions I got were sometimes like, hmm.. I don't know if you would have asked that of a man, but, um, I don't think that it was, I don't think that it has been a ton of differences.
Other than that for fundraising. I think for fundraising, it's really the same as what or why you, why are you building this product and how can you make this succeed?
Al
Right. Um, and in terms of your background, I think you were in medical school, you dropped out to do the startup. Could you tell us a bit about that?
Myra
Yeah. I did medical school for four years. I dropped out two months before graduating, um,
Al
two months before graduating?
Myra
Yeah. Yeah. Yeah.
Al
Um, what made you do that? I mean, probably a pants asking you about it as well.
Myra
Yeah, my parents were definitely asking why I would, I, I, I was always very dead set on doing vascular surgery and the shift to deciding to startups was completely different, um, than what I had really been expecting of how my life would go.
But, um, I think for me, it was that by starting this company and by helping people sustainably lose weight all across the nation, you would be able to touch millions of lives. And as a surgeon, you would only ever be able to do maybe two to three surgeries a day at most like 20,000 cases in a lifetime. Versus as we scale like a million people over a million people a year really easily.
Al
Got it. So was it, your co-founder came to you and said, you know, this idea let's do this? Or where did the idea come from? Uh, two of you who, who came up with the idea first.
Myra
Um, I think it was kind of both of us. My co-founder was personally telling me her story of, um, we were friends. We used to go kayak in Seattle a lot and she was telling me like, I've been going through these treatments.
It's taken me months to get my insurance approved, to go to the endocrinologist. The endocrinologist has to be approved from this other center. There's months long waitlists. It's super annoying to get this medication it's super annoying to go and do all these steps. Um, and at the same time, I was kind of thinking that it's surprising to me that more primary care doesn't utilize these medications and approach obesity in a different ways. It's, it's surprising that when, when you're in a primary care office, there's so much bias around weight and that patients should really be able to figure it out themselves or something.
And you're not, you're not really helping them. Are you willing to offer these tools?
Al
When you're young, I mean the young Myra, let's say 10 years old. Who do you want to be? a doctor? Or do you have anything set back then that you wanted to be specifically?
Myra
Yeah, I think when I was 10, I really wanted to, I wanted to be a doctor for awhile. Yeah. I think it was only when I was in medicine that I realized there was, there was a better way to help more people than actually doing the daily work of being a doctor.
Al
Right. Um, who are your role models, especially in startup space or generally who would you consider as your role models?
Myra
Yeah, role models so that's, that's a hard question. I think there's a lot of, um, I think, well, my husband is a co. My husband is a founder as well. Um, so he's probably a role model.
He started a company about five years ago and it's been really helpful for me to learn from that. Um, other role models. I think some of the, some of the crazy fundraising stories that we've seen recently, like Ryan Breslow, all of these, um, startup. Yeah. All of the fund to fundraising. It's been really interesting to see that, um, and, and learn from some of their strategies.
Al
Cool. Um, and, if you had to go back and give advice to your younger self, what did that you would tell her?
Myra
I would tell her, take more risks. I don't think, I don't think when I was younger, I was willing to take as much risk and I probably, I might've left medicine earlier to start a company. Um, if I had been willing to take a risk.
Al
Um, cool. Um, what are your future plans for your company? Um, what did that you have in mind, your future roadmap? How does that look like?
Myra
Yeah, so we're hoping be Um, we're recruiting patients from 50 states, but we are not actually able to prescribe for certain medications yet for all 50. Um, we're hoping to be in 10 by the, in the next couple of months. So probably the fall.
Al
So currently you're in 10 states? Is that correct?
Myra
Currently we're in five states, we're recruiting patients for all states for some services we can do all 50 states.
Um, but for prescription medication for, especially for things that, um, require special licensing and such, we can only do five. So we want to expand that to be 10.
Al
Within this year. Got it. Um, and this is a question we asked pretty much all of our guests, your most favorite, uh, three non-fiction books,
Myra
most favorite three nonfiction books. Okay. Um, right now I'm reading Empire of Pain, which is a really fascinating history of the Sackler family and like how, um, basically how, how they became huge in marketing and prescription medications and how they really changed the relationship between doctors and industry. Um, that was a great read. Um, I really liked Hillbilly Elegy, although that's become controversial because of J.D, Vance.
Yep. Um, and third book, let's see. Oh, there's another one that I read recently that was The Empire of the Scalpels s. Which was like a history of surgery and, um, different surgical techniques from, from different ages. So.
Al
Cool. What about, uh, business books? Do you read any? Yep. Okay.
Myra
Yeah. Yeah. There was one that I read on, um, negotiating recently that was.
Al
Is that the FBI agents one , is it what the FBI agent? Uh, the former FBI agent of the book.
Myra
That's the one right to the block. I couldn't remember the title. Yeah. I cannot remember the pedal.
Al
Okay. Um, all right. Um, I think, um, that's pretty much a wrap. Uh, that's basically all the questions we have for you. Uh, I think the next steps are going to be, we going to catch up with you maybe six to seven months down the road.
We're going to do a part two, right. To see where you at then. Uh, so let's catch up then,
Desiree
Thanks Myra, thank you for being here and sharing us of your journey. And that's a wrap.
Outro